Home
» CPDP with another distinction of the Citizens against the Bureaucracy Foundation
CPDP with another distinction of the Citizens against the Bureaucracy Foundation
11.12.2018
Under the patronage of the European Parliament, at a special ceremony held on 6 December 2018 at the House of Europe in Sofia, Citizens Against Bureaucracy presented for the third consecutive year its annual awards for state institutions which contribute to reducing the bureaucratic burden for citizens and businesses in Bulgaria. Representatives of CPDP at the ceremony were Prof. Veselin Tselkov - Member of the Commission, and Nadezhda Borisova - State Expert at DG "Information Funds and Accountability".
The aim of the annual event is to promote the aspirations of institutions to serve society in a transparent and accessible way by providing a good example. After detailed monitoring of the activities of the state institutions as well as on the basis of recommendations given by the citizens, the Foundation assesses both the categories of awards and those awarded in the different categories. The main criteria for the assessment are transparency in the work of the institutions, ensuringthat the citizens and the businesses are well-informed, providing services in an easy and accessible way, and in particular - providing well-implemented electronic services
.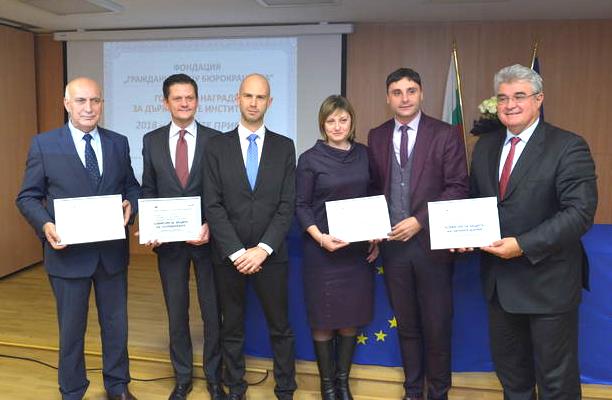 In 2018, Citizens Against Bureaucracy gave out awards in the following categories - Transparency in Governance, Best Electronic Service, Citizens` Protection from Unfair Commercial Practices, Systemic work for irreversibility of digitization, Sustainable Tax Collection and E-Municipality
.
In 2018, the Commission for Personal Data Protection was awarded the category "Transparency in Management"
- for comprehensive and accessible information on both the Commission`s activities and the processes and innovations in the field of personal data protection. When giving the award, Stefan Hristov, Foundation Manager, stressed that an effective tool of CPDP for public awareness is the regular publication of an electronic Newsletter, which reflects the decisions and opinions of the Commission
.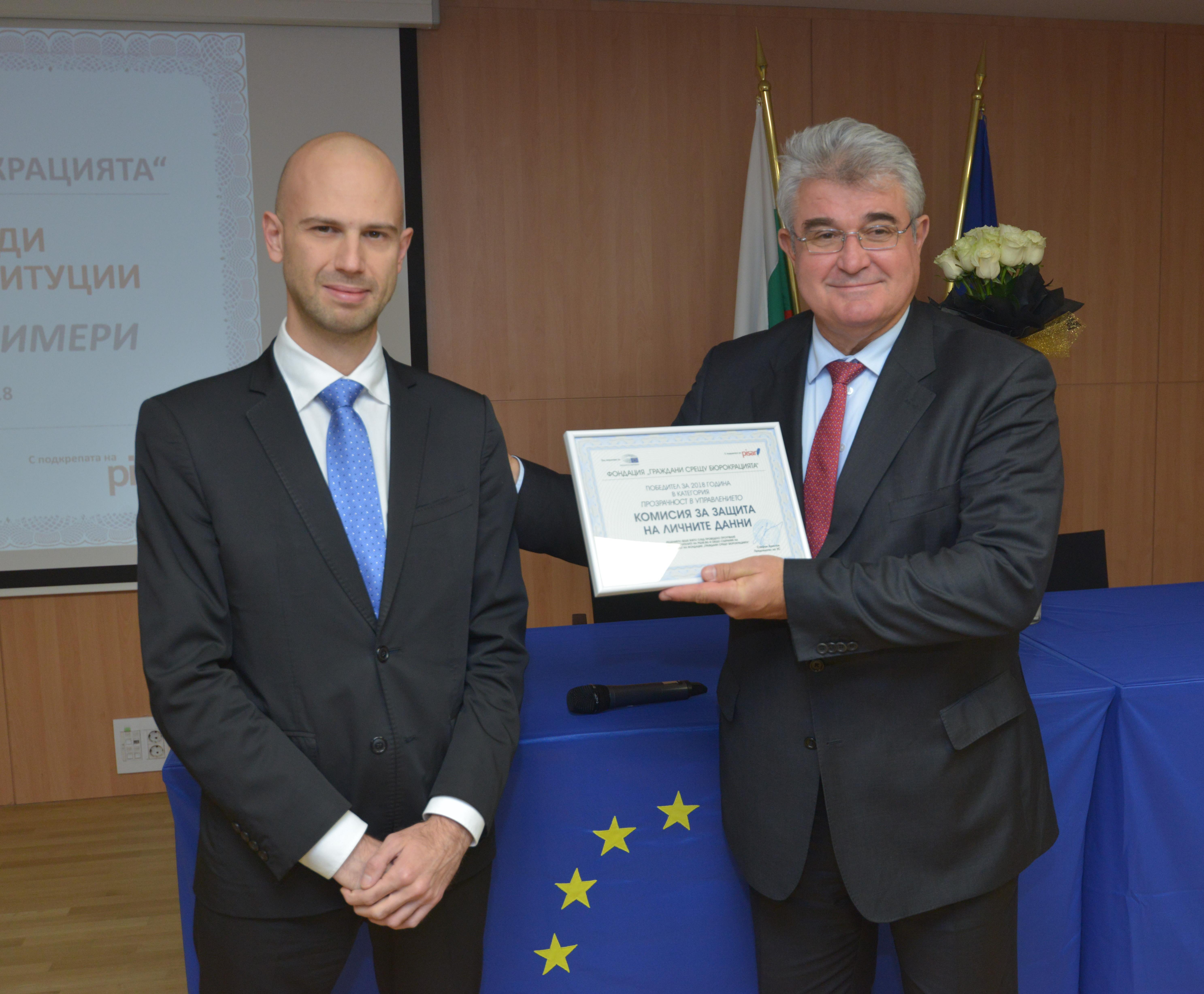 Prof. Veselin Tselkov received the diploma on behalf of CPDP
This is another recognition for CPDP, which in 2017 received the Foundation`s Award for "State Institution of the Year" and in 2016 for "Best Citizens Service"
.
print